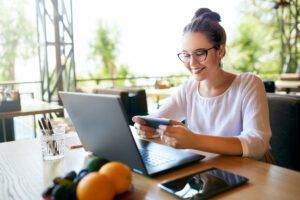 Everything you need to know about mobile hotspots
The internet has become an indispensable part of our lives. We rely on it more than ever for work, entertainment, or staying in touch with loved ones.
Online accessibility has become nearly universal in the UK, where internet penetration rates are among the highest globally, with over 65 million users expected by 2026.
It's clear that the internet is not just a luxury but a necessity, and this is where mobile hotspots play a crucial role.
Here's everything you need to know about mobile hotspots, shedding light on their significance and how they can transform your digital experience.
Mobile Hotspots: What Are They?
Picture this scenario: you're on the go, away from your home or office, and desperately need a reliable internet connection. Mobile hotspots to the rescue.
Also known as portable WiFi, these handheld devices create a secure, private WiFi network using cellular data. In essence, they allow you to connect to the internet anywhere, anytime, without relying on public WiFi networks that often leave your data vulnerable to prying eyes.
Security is a paramount concern when using public networks. The risks associated with open WiFi networks are well-documented, making mobile hotspots an attractive option for those who value their privacy and data security.
For instance, NETGEAR's Mobile WiFi Hotspots provide a lifeline for anyone seeking freedom from the constraints of risky, slow, and insecure public WiFi. With your mobile hotspot, you can ensure the security of your data and devices through a safe, private connection that's entirely your own.
How Do Mobile Hotspots Work?
Understanding how mobile hotspots work is essential to grasping their purpose fully. These nifty devices tap into wireless data from a cellular provider to provide internet access to phones, computers, tablets, and other WiFi-enabled gadgets.
Most mobile hotspots operate on 4G LTE wireless technology, offering maximum speeds of around 30 Mbps. However, some newer models have 5G capabilities, pushing speeds from 50 Mbps to well beyond 1,000 Mbps in select areas.
A remarkable example of cutting-edge mobile hotspot technology is the NETGEAR Nighthawk M6 Pro 5G WiFi 6E Mobile Hotspot Router
This device not only supports 5G but also incorporates WiFi 6E technology, unlocking staggering speeds of up to 4 Gbps for 5G and up to 3.6 Gbps for WiFi.
Moreover, it can connect up to 32 devices simultaneously, ensuring that your entire digital ecosystem enjoys seamless connectivity.
Nighthawk M6 Pro is unlocked, giving you the freedom to select the carrier of your choice. Simply get a SIM card and data plan that meets your needs.
Benefits of Using Mobile Hotspots
Now that we've explored what mobile hotspots are and how they operate let's delve into the benefits they offer:
●      International Travel: If you're a globetrotter, you've likely encountered the headache of data roaming charges. Mobile hotspots come in handy here. By connecting to a local network through your hotspot, you can bypass expensive roaming fees and enjoy affordable internet access while abroad.
●      Businesses: The rise of remote work and the need for flexibility in today's business landscape have made mobile hotspots indispensable. They enable businesses to provide portable WiFi solutions for employees working from various locations, boosting productivity and cost savings.
●      Multiple Device Connectivity: Whether you're juggling a laptop, tablet, smartphone, or more, mobile hotspots allow you to connect multiple devices simultaneously. They also often come with features that let you manage bandwidth effectively, ensuring a smooth online experience for all your gadgets.
●      Enhanced Security: Security in the digital realm is a top priority, and mobile hotspots provide an extra layer of protection. When you connect to a public WiFi network, you expose your data to potential threats. Mobile hotspots, on the other hand, create a secure and private WiFi network, shielding your sensitive information from hackers and cybercriminals. This peace of mind is invaluable, especially when handling confidential work-related tasks or conducting online banking transactions.
The convenience and security that mobile hotspots bring to the table are undeniable, and now you can create your personal WiFi oasis, where slow and unsecured public networks become a thing of the past.
In Conclusion
In a world where connectivity is king, mobile hotspots have emerged as a revolutionary technology. They offer the freedom to access the internet securely without the constraints of public networks or the woes of data roaming charges. From international travellers to businesses and everyday users, the benefits of mobile hotspots are far-reaching.
As we navigate the digital landscape, seamless connectivity becomes more than just a convenience—it's an essential tool. So, if you haven't already embraced the power of mobile hotspots, now might be the perfect time to start.
Equip yourself with a reliable device, and take charge of your online experience. With mobile hotspots, the entire world becomes your WiFi hotspot, enabling you to stay connected wherever you go. Elevate your online connectivity today!
Read more:
Everything you need to know about mobile hotspots