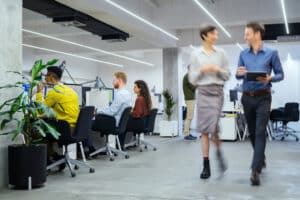 Creative UK dishes out £35m investment fund
Creative UK has launched a new creative industries investment fund to support the UK's ambitions to grow the sector by £50bn and create one million extra creative jobs by 2030.
The £35m Creative Growth Finance II (CGF II) fund will provide the investment needed to meet the targets set out in the UK government and Creative Industries Council's recently published Sector Vision.
Caroline Norbury OBE, chief executive, Creative UK, explains: "Over the past decade, the UK's creative industries have grown more than 1.5 times the rate of the wider economy, currently generating £108bn in economic value and employing 2.3m people. However, this country's talented creative businesses are experiencing a significant gap between their immense growth potential and access to the vital capital they need to succeed."
Delivered in partnership with Triodos Bank, CGF II is the largest single fund to be delivered by Creative UK, following its investment of more than £50m into the UK's creative industries over the past decade.
Tech expert Sjuul van der Leeuw, CEO of Deployteq said: "The creative industries are at a really exciting moment, with tech innovation like AI revolutionising areas such as marketing and creative production, so it's fantastic to see the UK's commitment to supporting this growth. This extra investment will enable companies to master emerging technologies and turbocharge the sector's growth, adding significant value for businesses and the wider economy.
"The funding will also enable the onboarding and training highly skilled staff adds a new dimension to businesses' creative offerings as well as their capacity to make use of automation-enabled technologies to boost the efficiency of critical processes and reach new audiences through channels such as email marketing" he added.
CGF II continues on from the first Creative Growth Finance fund, which launched in 2019 and has since invested over £17m into more than 30 creative businesses located across the UK and operating within sectors including film & TV, virtual production, video games, advertising and software.
The existing CGF fund portfolio has so far experienced an 108% improvement of average monthly revenues, a 39% headcount growth average with more than 225 jobs created, and nearly £19m raised in further third party funding.
Phillip Bate, director of business banking, Triodos Bank UK, said: "Four years on from the launch of the first Creative Growth Finance fund, our partnership with Creative UK goes from strength to strength and continues to support companies at the forefront of innovation. For a bank only focused on financing projects with positive impact, we can see the social importance of these organisations to the UK. Creative UK's expertise has been key to helping us grow our funding of this important sector."
Companies benefiting from Creative UK funding include Dimension Studio (virtual production), Moonraker VFX.
Read more:
Creative UK dishes out £35m investment fund