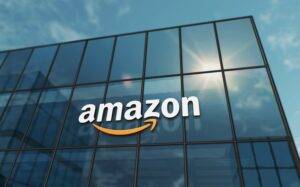 Amazon pledges $4bn to Anthropic in race for chatbot dominance
Amazon is making an investment of up to $4 billion in Anthropic in the latest in a series of alliances between big tech and artificial intelligence start-ups as hype around generative AI technology accelerates.
The deal makes Amazon the provider of cloud services for Anthropic's "mission critical workloads", the company said in a statement, while Amazon's staff and customers will get priority access to technology from Anthropic.
It gives Anthropic "access to leading compute infrastructure" in the form of Amazon's advanced AI chips, a spokesman said, "which will be used in addition to existing solutions for model training and deployment".
The cloud, the infrastructure that manages and processes data and applications, is a crucial part of developing generative AI, which relies on vast amounts of storage and computing power.
The move is a cornerstone of Amazon's strategy to forge ahead in AI through its powerful computing network. Since the start of August, the latest version of Claude has been part of Amazon Bedrock, which offers companies such as Slack and Zoom different AI models and support systems.
More broadly, this mega deal between Amazon and the two-year-old Anthropic captures the astonishing pace of change in the sector.
It mirrors the deal between Microsoft and the ChatGPT maker OpenAI, a rival to Anthropic, although that was a closer partnership. Microsoft paid $10 billion for a 49 per cent stake of OpenAI, which exclusively uses its cloud servers.
Google acquired the UK's Deepmind, a cutting-edge artificial research business, in 2014 for more than $500 million but it also an investor in Anthropic and other AI companies.
San Francisco-based Anthropic was founded in 2021 by former researchers at OpenAI and aims to build reliable and safe AI systems. It is behind the "Claude" chatbot, which the company bills as a having a "high degree of reliability and predictability". Like OpenAI, it charges users $20 a month for the most advanced option of the bot.
The company emphasises the safety and "reliability" of its chatbot because generative AI, which can create new images, text, code or translation when asked, is prone to errors and bias, which makes many wary of its usage.
Chatbots are trained on vast reams of copy, allowing them to detect language patterns and then "predict" sentences in a human-like fashion, which makes it feel like you are conversing with another, very well-informed, person.
Despite being only two years old, before the Amazon announcement Anthropic had already raised almost $1.5 billion from high-profile backers including Google, Salesforce, Zoom and Sam Bankman-Fried, the founder of the collapsed crypto business FTX who is now on trial for fraud. The last funding round was thought to value the business at more than $4 billion.
Initially Amazon will put in $1.25 billion, a sum that can be increased by a further $2.75 billion, but it is not known what percentage stake that represents for the technology giant and it will not have a seat on the board.
Read more:
Amazon pledges $4bn to Anthropic in race for chatbot dominance