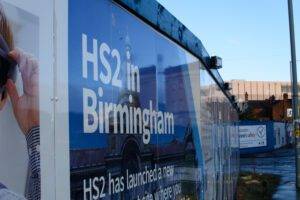 Bosses warn Sunak scaling back HS2 will hurt the UK
A coalition of industrial leaders has launched a last-ditch effort to implore Rishi Sunak not to scale back the HS2 rail line, warning that "constant changes" to the project were damaging Britain's reputation among overseas investors.
The chief executives of China-owned British Steel, American engineering firm Aecom and family-owned construction company Keltbray are among scores of bosses who have written to the prime minister to advise him of the repercussions of scrapping the second leg of HS2 linking Birmingham and Manchester.
Andy Street, the mayor of the West Midlands, said separately that Sunak was poised to create "the most expensive white elephant in UK history" by reducing the scope of the project.
The prime minister is widely expected to scrap the building of HS2 beyond Birmingham this week before the Conservative Party conference that starts next weekend in Manchester.
Representatives from Heathrow, Siemens, Mace and Skanska are among nearly two dozen leaders urging the prime minister to rethink his plans. They tell Sunak that the prospect of backtracking on previous commitments to build the line at least as far as Manchester is "deeply alarming".
Signatories of the letter say: "It is a particular blow to the 30,000 people working to deliver this vital infrastructure each and every day, and the many thousands of businesses in the northwest who are currently investing in the area based on HS2 reaching Manchester."
Tory MPs urge Rishi Sunak to back northern HS2
The expected U-turn on HS2 comes just days after Sunak announced a reversal of Boris Johnson's green agenda by pushing back a ban on the sale of new petrol and diesel cars from 2030 to 2035.
The group warns the prime minister: "Perhaps most important of all from a business perspective, these constant changes to a flagship infrastructure project add to the perceived risk of the UK as a place to do business, as well as adding to the cost of each and every infrastructure project in the future.
"At a time when we need to compete globally harder than ever, and we need to deliver infrastructure more efficiently than in the past, we cannot overstate how harmful this is."
The putative axing of high-speed services to Manchester could come alongside a final decision to scrap plans for a London terminus at Euston. Services would run between Birmingham and Old Oak Common, seven miles from central London, instead.
Sunak's decision has incensed Street, who is an important political ally. He has written to regional business leaders to pressure Sunak to change his mind.
Read more:
Bosses warn Sunak scaling back HS2 will hurt the UK