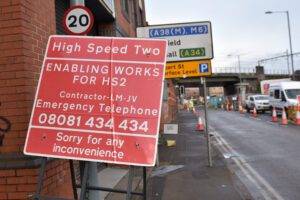 HS2 Phase Two: Birmingham to Manchester expected to be cancelled within days
Insiders have revealed that the HS2 Phase Two project, the high-speed rail line from Birmingham to Manchester, is expected to be cancelled.
The announcement could be made as early as next week, marking a significant shift in the UK's infrastructure plans.
The HS2 project, initially intended to link London, the Midlands, and the North of England, has been plagued by delays and escalating costs. The budget for the entire HS2 project was set at £55.7bn in 2015. However, the target cost, excluding the eastern leg of Phase 2b from the West Midlands to the East Midlands, has skyrocketed to between £53bn and £71bn in 2019 prices.
Despite £2.3bn already invested into the second stage of the national line, a leaked photograph obtained by The Independent suggests that ministers are considering scrapping the northern leg to save an estimated £35bn. This follows the controversial decision in 2021 to scrap the Leeds terminus and downgrade Northern Powerhouse Rail.
Senior Government sources have stated they were not aware of any final decision, with the ultimate call likely to rest with Prime Minister Rishi Sunak alongside Chancellor Jeremy Hunt. Mr Sunak has previously expressed the need to find a way of delivering infrastructure projects that don't cost taxpayers billions of pounds.
The potential cancellation of the HS2 Phase Two project follows a series of setbacks. The eastern leg to Leeds was cancelled two years ago, and it was confirmed in March that construction between Birmingham and Crewe would be delayed by two years. Furthermore, services may not enter central London until the 2040s.
Transport Secretary Mark Harper announced a two-year pause on work at Euston due to costs forecasted to reach £4.8bn, nearly double the initial budget of £2.6bn. This means that Old Oak Common, in the capital's western suburbs, will be the railway's only London station when services to and from Birmingham Curzon Street begin between 2029 and 2033.
The cancellation of the HS2 Phase Two project could have significant implications for the UK's infrastructure and economic development, particularly in the North of England. As the situation unfolds, all eyes will be on the government's next steps in managing the country's ambitious but troubled high-speed rail project.
Read more:
HS2 Phase Two: Birmingham to Manchester expected to be cancelled within days