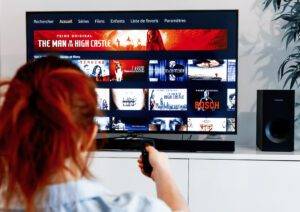 Amazon set to introduce ads on Prime Video
The pleasure of watching streamed films with no commercial breaks is about to end for almost 13 million British households after Amazon announced it would introduce adverts to its Prime service.
The "limited" content will be added to streamed movies and TV programmes early next year. UK subscribers will be able to choose an ad-free service for an additional fee.
Amazon said the adverts were necessary to "continue investing in compelling content and keep increasing that investment over a long period." It added: "We aim to have meaningfully fewer ads than linear TV and other streaming TV providers."
The move comes in the wake of other streaming services such as Netflix and Disney+ launching cut-price options for services that feature adverts.
UK members pay £8.99 a month or £95 a year for Prime, which provides other benefits such as free postal delivery of certain items, exclusive deals, and music streaming. They can pay £5.99 to access the Prime Video service only.
The adverts will be introduced in two phases: the US, UK, Germany and Canada first, followed by France, Italy, Spain, Mexico and Australia.
Amazon has more than 200 million Prime subscribers worldwide, with 12.9 million in the UK.
The company said that it would set the fee for an ad-free option in the UK at a later date. It has already said that the cost in the US would be an extra $2.99 a month.
In the UK the company raised the monthly fee for Prime from £7.99 to £8.99 in September 2022, the first increase for the service since 2014.
Prime Video streams a wide range of movies and programmes as well as exclusives such as Clarkson's Farm and The Lord of the Rings: The Rings of Power. Netflix launched a basic subscription plan with adverts last year for £4.99 a month. Its "premium" tier, which offers better video quality and no adverts, is £15.99 a month. Disney+ last month announced plans to introduce an "ad-supported" subscription plan in the UK in November. It will cost £4.99 for the basic plan with adverts.
Amazon is one of the biggest companies on Earth with a $1.36 trillion value. Its operations span online retailing and cloud computing but also low-earth satellites, robotic vacuum cleaners and even hairdressers.
Read more:
Amazon set to introduce ads on Prime Video