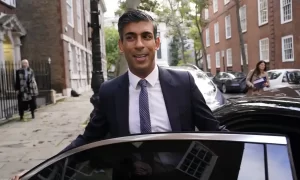 UK's Petrol & Diesel ban delay will release 10M extra metric tonnes of carbon into the British atmosphere
Sunak declared that he was entering a new phase of his premiership, and that after a year bringing "stability and competence " into government, he now wanted "to change the direction of the country and build a better future for our children"
Now, the first year I've had this job, I've brought stability and competence into government, into our country, into our economy, and that was necessary and important.
But what I want to do now is, in a series of decisions, change the direction of our country. And I believe that, if we want to do that, we have to change the way we do politics. You can't chase the short-term headline. You've got to do the things that are right in the long term. That's not going to be easy. I know I'll get criticism and flak for it, as you've seen over the last day or two. But I'm not going to be deterred from doing what I think is right for the long-term future of our children.
This was interesting for two reasons. First, it's confirmation that the net zero changes are just the first in a series of announcements Sunak is planning that will mark a break from the past.
And, second, instead of just saying he would announce reforms, he claimed it was necessary to "change the way we do politics too". Amen to that, a lot of us might say, but Sunak did not explain what he meant beyond saying that he wanted to do things for the long term. This made it sound as if he is just just trying to adopt Keir Starmer's argument about the country needing something more than "sticking-plaster politics".
Sunak said the government was confident that it had the measures in place to meet its climate change targets. It was put to him that the Climate Change Committee does not agree. But Sunak said: "The secretary of state on behalf of the government under the current law has an ongoing responsibility to ensure that we do have policies and proposals in place that will allow us to meet all our international and domestic obligations, which we remain committed to. We have absolutely confidence and belief that we will hit them.
He also said the government had "consistently over-delivered in all our previous carbon budget".
He insisted that he was not slowing down efforts to tackle the climate crisis. He said: "We're absolutely not slowing down efforts to combat climate change. I'm very proud of our country's leadership.
We've decarbonise faster than any other major economy in the G7 – not a fact you hear reported that often.
He challenged his political opponents to defend policies that he said would cost families thousands of pounds. He said:"For those who disagree with me – and there are plenty of people as we can see over the last day or two, lots of people who disagree with me – the questions for them, they should explain to the country why they think it's right that ordinary families up and down the country should have to fork out £5,000, £10,000, £15,000 to make the transition earlier than is necessary.
This was an answer that confirmed that there was a strong, party political flavour to the speech yesterday (even though Sunak explicitly denied this at the time). Soon after he finished last night CCHQ sent out a briefing to journalists headlined "Questions to Labour on net zero".
Kemi Badenoch, the business and trade secretary, giving interviews this morning while Rishi Sunak was on the Today programme insisted that many businesses wanted the government to delay net zero targets, as Sunak announced yesterday. She said: "If you speak to the Department for Transport, you speak to the Net Zero, Energy and Security Departments, you will see that this is something where we've been receiving multiple representations across the board. I'm not going to go into the details of who those are, those are private businesses, but we are not just doing this for the fun of it. We are doing it because we are looking at the consequences of forcing people to take on change that they are not ready to take on"
She also dismissed criticism of the move from Zac Goldsmith, the former minister who resigned complaining Sunak is not sufficiently committed to the environment. Goldsmith, who is a multi-millionaire, yesterday called for an early election because he opposes Sunak's announcement so strongly. Asked about his comment, Badenoch told Sky News that Goldsmith was a friend. But she went on: "Most people in this country don't have the kind of money that he has. We have to think about what people can reasonably afford. We have people who are not connected to the gas grid who are being made to make changes that are simply not feasible."
However Nick Woolley, CEO, ev.energy, speaking to Business Matters this morning said":: "Rishi Sunak has condemned the UK public to release a minimum of 10 million additional metric tonnes of carbon into our atmosphere with the announcement of the ICE ban pushback.
"Scrapping the 2030 target puts more money in the coffers of oil companies and increases costs for the motoring public. To decarbonise, we need to accelerate the transition everywhere, all at once – extending the life of fossil fuels in vehicles by 5 years is completely the wrong approach.
"54% of the UK public want to switch to an electric car before the 2030 ban – so  'people's consent' is not the issue, nor is the grid.
"Yesterday the grid ran with a new green record, with only 14.5% of generation coming from gas, and we'll soon see gas disappear completely and the grid becoming 100% green. So why are we not seizing this opportunity to fuel transport with green electrons?
"The great thing about EVs is they help us accelerate faster, integrating more renewable energy – as they can be used as flexible demand, matching the intermittencies of wind and solar. Powering EVs with wind and solar is also cheap, saving  drivers hundreds of pounds a year, and if employed at scale, would help save an additional 2 million metric tonnes of carbon being released into the atmosphere.
"We need the Government to keep firm on their commitments, and get behind accelerating the transition, everywhere. Banning new sales by 2030 isn't fast enough, and pushing it to 2035 is embarrassing. I want my kids to grow up in a society without air pollution, and where we are tempering the effects of climate change. Humanity is amazing when singularly focussed on one goal: we should make that goal decarbonising as rapidly as possible, not prolonging the interests of dangerous oil and gas companies.
"Focus on providing fair access to those worse off so that EVs don't just benefit the rich. Let's make sure everyone can connect to the grid together, not just those who are ready first."
Read more:
UK's Petrol & Diesel ban delay will release 10M extra metric tonnes of carbon into the British atmosphere