Crisis-hit CBI shelves plans for tie-up with manufacturing body Make UK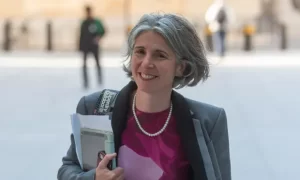 The Confederation of British Industry, one of the UK's largest business lobby groups, has shelved plans for a tie-up with manufacturing body Make UK, telling members it was "confident" an alternative emergency cash rescue would be found.
A call with the CBI president, Brian McBride, and its director general, Rain Newton-Smith, on Wednesday replaced its scheduled annual general meeting at less than 24 hours' notice. The change of plan came after a £3m cashflow shortfall prevented the CBI from presenting its financial statements to its members as planned.
Sources familiar with the broadcast discussion said the aim was to "project a strong impression of confidence" to the membership, even if that did not reflect a "level of certainty that was universally felt" by senior figures at the lobby group.
Hopes for survival are now pinned on a member-led bailout, as plans for a tie-up with Make UK, which lobbies on behalf of manufacturers, have been shelved, the Guardian understands.
Talks over a coordinated package of short-term financing are being spearheaded by its banking members. HSBC, NatWest Group and Lloyds Banking Group had engaged the CBI's "senior alumni network", sources said. All three banks declined to comment on the talks.
The CBI is in crisis because nearly 100 British companies have paused or suspended their membership since April, when the Guardian reported allegations of sexual attacks and sexual harassment of staff by senior figures. Those who cut ties included the carmakers BMW, Ford and Jaguar Land Rover; the supermarkets Tesco and Sainsbury's; the asset managers Aviva, Fidelity and Schroders; the US banks Goldman Sachs, JP Morgan; and the oil companies Shell and BP.
The government and the Labour party also paused contact with the organisation, hampering its ability to represent businesses, although communications have now resumed.
In a signal of efforts to rebuild relationships, Newton-Smith on Wednesday afternoon posted an image of herself and a colleague outside No 10 this week on LinkedIn. With the political party conference season fast approaching, efforts are under way by rival groups to position themselves as an alternative national voice for business.
The British Chambers of Commerce (BCC) has formed a new "business council" in an attempt to influence economic policy, as well as political party manifestos ahead of the next general election. It held its inaugural meeting last week, attended by the housing and levelling up secretary, Michael Gove, and the shadow chancellor, Rachel Reeves.
The council comprises 13 major UK businesses, including FTSE 100 companies such as Aviva, BP and Heathrow, which quit the CBI or suspended their membership in protest earlier this year.
NatWest is now considering whether to rejoin the CBI, after the former chief executive Alison Rose, who resigned unexpectedly last month, made a decision to cancel its membership in April.
Howard Davies, the chair of NatWest, is a former director general of the CBI. Carolyn Fairbairn, also a former director general of the CBI, is on the board of HSBC as an independent non-executive director and previously served on the board of Lloyds.
The organisation needs to find nearly £3m by mid-October in order to meet its financial obligations, including paying staff. No members had yet "signed a cheque" but talks were "positive", sources said.
A CBI spokesperson did not directly address whether Make UK talks were sidelined for now, instead saying a "viable option exists for closer collaboration in the future".
Wednesday's online call with members was in broadcast mode, with questions carefully selected. No financial statements were presented.
Many expressed frustration with what they regarded as misplaced confidence on the group's finances. Some members praised the "good work" under way to read the policy climate ahead of the next general election.
"There are clearly talented and hard-working staff still there, making the most of efforts to rebuild links into government and the opposition, but they are not being well served by a lack of transparency in terms of governance," one CBI member said.
Some former CBI members said they would not rejoin because their trade associations had improved their offerings and were making greater headway with the government and Labour party by raising niche but significant sectoral issues.
"The sledgehammer of something like the CBI makes sense at a time of political stability, but when the government and Labour are focused on an election then going at specific smaller problems makes better sense," one source at a services-focused company said.
Read more:
Crisis-hit CBI shelves plans for tie-up with manufacturing body Make UK