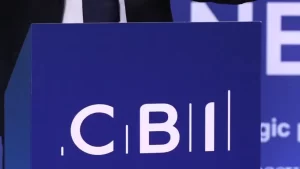 Crisis-hit CBI cancels AGM over cash shortage
The CBI has been forced to postpone its annual general meeting, less than 24 hours before it was due to start, as it struggles with a financial crisis.
The troubled business group told members yesterday on the eve of the delayed meeting that it has "experienced some short-term cashflow challenges" but was in "positive dialogue over finalising financing options".
The CBI said it was "confident that we will be able to resolve this short-term issue and secure the footing of an organisation that remains in a strong medium to long term position".
The options are understood to include securing emergency funding from members while it explores a merger with MakeUK, a lobby group for the manufacturing sector.
The CBI, a 58-year-old royal charter organisation, was one of Britain's most influential business membership groups but has been fighting for its future after a workplace misconduct scandal this year, including allegations of sexual misconduct and rape.
The crisis led to an exodus of some of Britain's biggest companies in April, including Aviva, NatWest, KPMG and the John Lewis Partnership. The government also cut ties.
The CBI has been forced to close offices in the United States, India and China and cut about a third of its workforce. It is racing to raise £3 million and HSBC is said to be attempting to encourage members to support its efforts, however HSBC declined to comment.
The turmoil comes ahead of the political party conference season and the chancellor's autumn statement, a key part of the calendar for the CBI.
The group which previously held its annual meeting in June, had been running a countdown to the event.
Members were set to vote on the election of the CBI's auditors and board members and consider its 2022 annual report, outlining its finances and governance, which is yet to be published.
The CBI is still planning to update members today and to hold the annual meeting before the end of the year.
A spokesman said that "given the significant interest in the CBI right now, we are opening-up and refocusing our previously planned AGM".
The CBI did not comment on what that meant or the discussions with members over securing financial support. One member, speaking confidentially, said they were probably targeting its president's committee, which tends to include some of its biggest and wealthiest corporate members. The exodus this year, however, has included a number of FTSE 100 companies who were members of the committee.
Another member, also speaking confidentially, said this week that there was concern among trade associations over a potential merger with MakeUK, given its focus on the manufacturing sector.
They said the CBI might be seeking to secure a financial lifeline until January, when a large proportion of members traditionally renew subscriptions.