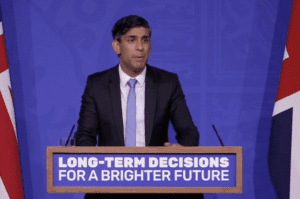 A dark day for British business: Unraveling the implications of UK's new Net Zero Targets
As I watched Chancellor Rishi Sunak unveil the government's new Net Zero targets, I couldn't help but feel a pang of disappointment. It's a day that will go down in history as a black mark against British business, and one we will rue for years to come.
Sunak's announcement marks a disconcerting shift in priorities that could have catastrophic implications for British businesses. It's a stark departure from the UK's previous commitment to sustainability and the long-term benefits it brings, both economically and environmentally.
For many businesses, this new policy feels like a sudden pulling of the rug from under our feet. We've been striving hard to align our strategies with the initial Net Zero targets, investing significantly in greener and more sustainable practices. Now, the goalpost has been moved, and the consequences for businesses are grave.
With this change, businesses will face mounting challenges. The financial burden of adopting new practices to meet these new targets, combined with the uncertainty surrounding the specifics of the policy, will place enormous strain on SMEs. This could result in job losses, reduced competitiveness, and potential business closures.
The impact extends beyond the immediate business sphere. Consumers are increasingly demanding sustainable and ethical businesses. A shift away from our previous environmental commitments could potentially damage our reputation in the eyes of consumers, both domestically and internationally.
The Importance of Sustainability
What Sunak's announcement overlooks is the long-term benefits of sustainability. Prioritising sustainability isn't just about protecting the environment; it's also about creating a resilient and future-proof economy.
Green practices stimulate innovation, create jobs, and open up new markets. They make us more competitive on a global scale. By turning our backs on these benefits, we are effectively sabotaging our own future.
A Call to Reconsider
This policy change is more than a mere adjustment of targets. It's a clear message about where our government's priorities lie. It's a decision that underestimates the resilience and adaptability of British businesses, and one that sidelines the importance of sustainability.
As businesses, we must not let this announcement deter us from our commitment to sustainability. We must continue to innovate and find ways to reduce our carbon footprints. We need to keep reminding the government and the public why sustainability should be at the forefront of any economic strategy.
It's a dark day for British business, but it's also an opportunity. An opportunity to stand up for what we believe in and to show that we won't be swayed by short-term political decisions.
Let's use this as a catalyst to engage in deeper discussions about the kind of future we want for our businesses, our economy, and our planet. Today, more than ever, we must reaffirm our commitment to sustainability and the long-term benefits it brings. Only then can we hope to navigate the challenges that lie ahead and emerge stronger on the other side.
Read more:
A dark day for British business: Unraveling the implications of UK's new Net Zero Targets