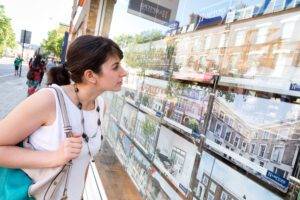 Number of house sales this year forecast to be lowest since 2012
The number of homes being bought and sold this year is expected to drop by a fifth to the lowest in over a decade, the latest evidence that dearer mortgages and a cost of living crunch have paralysed Britain's housing market.
Zoopla, the property website, expects there will be 1 million transactions this year, 21 per cent fewer than last year and the fewest since 2012.
The decline will be brought on by a slump in the number of mortgage-backed purchases. While the number of cash buyers is likely to remain similar to last year, Zoopla is forecasting a 28 per cent drop in the number of sales to buyers who require a mortgage.
Buy-to-let transactions, which typically make up about 8 per cent of all sales, are also expected to fall this year. Richard Donnell, Zoopla's executive director of research, said the economics of letting out flats and houses was "being squeezed by higher mortgage rates". He has calculated that buy-to-let investors in the south of England now "need to inject 40 per cent to 50 per cent of the property value as equity to get the numbers to stack up".
Separate data from UK Finance supported Zoopla's predictions. Purchases by first-time buyers and home movers fell 28 per cent and 30 per cent respectively between April and June compared with the same period last year. The trade association found that homeowners' "wiggle room" between the rates they could afford and what they were paying shrank as their old deals ended. This gap fell to around 2 percentage points in June, down from about 5.5 points two years ago.
The further signs that 2023 will be a slow year will add to the woes of estate agents, who made more money in the pandemic years than they had done since the financial crisis as the lockdown-induced "race for space", as well as the stamp duty holidays, led to a surge in demand. Amid that fierce competition for homes, prices also jumped sharply.
However, price growth has slowed in 2023 and Zoopla estimates that house prices across the UK are, on average, only 0.1 per cent higher now than they were in August 2022.
That marks the weakest annual house price inflation Zoopla has recorded since 2012. Prices in Scotland, which are up 1.7 per cent year on year, are holding up better than elsewhere in the country, while London is the worst performer, with prices in the capital down 1 per cent over the past year.
Donnell said there was a "clear north-south divide" in the data, which he put down to buyers in the south typically needing larger mortgages, which are now much more expensive to service every month.
On average, it is now 10 per cent cheaper for a first-time buyer to rent than buy, despite rents having soared to record highs in recent months. However, Zoopla's data shows that in the six regions with the lowest house prices — all of which are in the north of England, Scotland, Northern Ireland and Wales — it is still cheaper to buy than rent.
Despite the rise in mortgage costs over the past 12 months, affordability — as measured by house prices versus income — is 7 per cent better than it was a year ago, as higher average wages have met lower prices.
Zoopla expects affordability to have improved by 10 per cent over 2023 come the end of the year, at which point the average house price to earnings ratio should have retreated to 6.3 times, in line with the long-term average, from 6.9 times last year.
"Looking ahead, we remain more optimistic about sales volumes than house price growth," Donnell said.
He added: "More flexible working, demographic trends from an ageing population, a strong labour market and high immigration will support movement and sales over the next two to three years."
Read more:
Number of house sales this year forecast to be lowest since 2012