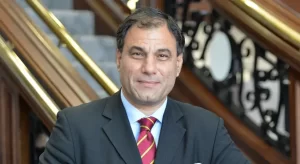 Change the Race Ratio finalises plans for independence from CBI
In September 2023, Lord Karan Bilimoria, Chair and founder of Change the Race Ratio, will move to a newly created role as President, handing the baton of campaign Chair to Sir Trevor Phillips.
Sir Trevor was a member of Sir John Parker's government-backed review team, and remains on its steering committee under David Tyler.
Lord Bilimoria founded the campaign in 2020, with 14 businesses, including Aviva, Brunswick, Business in the Community, CBI, City Mental Health, Cranfield University, Deloitte, EY, The Investment Association, Russell Reynolds, Microsoft, 30% Club, Schroders and Unilever., with the clear ambition to drive progress in ethnic minority representation at Board and the most senior levels of leadership.
The leadership team have been planning for the next phase of its development for some time, with a plan to become an independent entity at the heart of their thinking. This decision will enable Change the Race Ratio to remain focused on delivering against its core objectives, encouraging businesses to set targets, report transparently and share the progress they are making. Plans to transition from the CBI, who have acted as the secretariat since it was founded, should conclude in the next few weeks with a focus on ensuring the successful transition of the campaign, setting it up for a successful next phase.
Both the President and Chair of Change the Race Ratio are committed to actively supporting the growth of the campaign as they seek to further cement its role as the business diversity campaign for race equity in senior leadership.
Lord Karan Bilimoria said of the changes:  "When I started Change the Race Ratio, 37% of FTSE 100 companies had no ethnic minority representation on their boards. Since then, almost all of the FTSE100 have appointed at least one ethnic minority director to their board, in line with the Parker review recommendations and our FTSE100 signatories have gone further setting targets and putting plans in place to increase representation at ExCo and ExCo minus one
"It's been a privilege establishing this campaign and seeing real progress being made on increasing racial and ethnic minority representation in UK business leadership. But our work is not yet complete. I look forward to welcoming my good friend and colleague campaigner, Trevor Phillips, into the role of chair of the campaign and working with him to achieve even more progress in the years to come."
Commenting on his new role as chair of Change the Race Ratio, Sir Trevor said: "I'm delighted to be asked to lead the campaign at such a pivotal time for business and I look forward to building on the excellent progress that has been made over the last three years by Lord Bilimoria and his colleagues."
"As an independent campaign we will have an even greater opportunity to build on the target setting, good practice sharing and convening that are the cornerstone of Change the Race Ratio."
"My work on the Parker Review has shown me that UK Plc needs all the talent available to us. We need to see practical, common sense approaches to increasing diversity and inclusion as an essential part of the nation's return to growth and prosperity."
Read more:
Change the Race Ratio finalises plans for independence from CBI