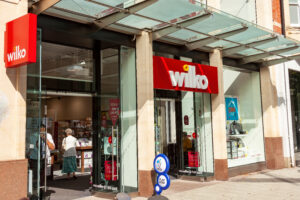 Wilko suspends home deliveries as rescue deal continue
The troubled budget retailer Wilko has stopped offering home deliveries for orders on its website as it holds last-ditch talks on a potential rescue deal.
The household and garden products retail chain, which has about 400 stores, warned last week that it was on the brink of collapse, with more than 12,000 jobs at risk.
Wilko and its adviser PricewaterhouseCoopers have until Monday to find new funding after filing a legal measure protecting it from creditors for 10 days on Thursday.
Parties that have expressed an interest in a rescue include Gordon Brothers, which owns Laura Ashley, Hilco, which owns Homebase, and Alteri, the owner of Bensons for Beds, but there had been little enthusiasm for a rescue bid.
Sources close to the talks said it appeared unlikely that any deal could be secured without the company first calling in administrators, and such a move could be announced by the end of this week. One said: "We are preparing for the worst."
If Wilko does collapse into administration, it would be the largest retailer to do so since the convenience store chain McColl's just over a year ago, which was subsequently rescued by the supermarket chain Morrisons.
It is understood that the logistics firm GXO was handling home deliveries for Wilko. GXO paused deliveries to stores for about two days last week as it waited to secure payment, but those deliveries have now resumed, and it is also possible to collect online orders from stores. It is not clear why home deliveries have been suspended.
Founded in 1930 when JK Wilkinson opened his first store in Leicester, Wilko stepped into many high street gaps left by the collapse of Woolworths in late 2008, but has struggled in the tough economic climate.
Last year it borrowed £40m from the restructuring specialist Hilco, cut jobs, rejigged its leadership team and sold off a distribution centre as it faced a cash squeeze after falling to a loss.
Sales fell as the retailer had to leave gaps on shelves after having difficulties in paying suppliers. Meanwhile, at least one credit insurer withdrew trade cover, prompting some stock providers to pause deliveries.
Despite its problems, the owners of Wilko, led by the Wilkinson family, took £3m in dividends in the 12 months to the end of February 2022.
In accounts filed at Companies House last year, the group's auditors warned that it had "insufficient committed financing" to withstand a "severe but plausible downturn in trading activity".
Read more:
Wilko suspends home deliveries as rescue deal continue