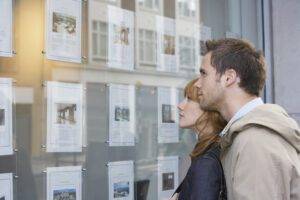 House prices fall for fourth month in a row
UK house prices have fallen for the fourth month in a row as the market showed resilience despite higher borrowing costs.
The average house price dipped 0.3 per cent month-on-month in July to £285,044, figures from the mortgage lender Halifax showed.
Over the year prices were down by 2.4 per cent, a slightly smaller drop than the 2.6 per cent drop in June, which was the largest such fall since June 2011.
Kim Kinnaird, a director at Halifax Mortgages, said: "In reality, prices are little changed over the last six months, with the typical property now costing £285,044, compared to £285,660 in February. These figures add to the sense of a housing market which continues to display a degree of resilience in the face of tough economic headwinds."
Halifax said activity among first-time buyers held up relatively well, with indications that some are now searching for smaller homes to offset higher borrowing costs, although high mortgage rates have put pressure on the buy-to-let sector.
The housing market surged during the pandemic, with demand for homes with gardens soaring, but has been slowing since Russia's invasion of Ukraine pushed up energy and food prices. The Bank has responded to higher inflation by raising interest rates to a 15-year high, adding to the biggest squeeze on household incomes since the 1950s.
Halifax said that the prospects for the wider UK housing market remain closely linked to the performance of the wider economy. Several factors are providing support, notably strong wage growth.
Last week the Bank of England raised rates by 0.25 percentage points to 5.25 per cent, the fourteenth straight rise since late 2021. The Banks said there were signs that inflation was becoming embedded and suggested that rates may remain elevated for longer. Inflation has fallen from above 11 per cent last year to 7.9 per cent in June but is well above the Bank's 2 per cent target.
Halifax said the affordability squeeze from higher mortage rates would continue to put off buyers and it expects house prices to keep declining into next year.
Kinnaird said: "We anticipate that being a gradual rather than a precipitous decline. And one that is unlikely to fully reverse the house price growth recorded over recent years, with average property prices still some £45,000 (or 19 per cent) above pre-Covid levels."
Imogen Pattison, assistant economist at Capital Economics, said: "While house prices are proving relatively resilient so far, the significant rise in mortgage rates is set to cause a renewed slump in demand, while previously tight supply conditions are easing.
Capital Economics expects house price falls to accelerate in the second half of the year to leave house prices 10.5 per cent below their peak on the Nationwide measure.
Nationwide's index recorded a 3.8 per cent fall in house prices over the 12 months to July, the largest year-on-year drop since July 2009 during the global financial crisis. Compared with the previous month, house prices fell by 0.2 per cent. Nationwide's index showed the average house price was £260,828 in July, down from £262,239 in June and a peak of £273,751 last August.
Read more:
House prices fall for fourth month in a row