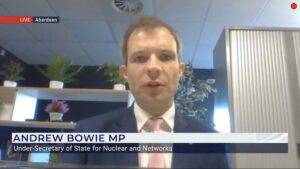 New North Sea licences will ensure energy security, says Energy Minister Andrew Bowie
NEW licences for oil and gas exploration in the North Sea will ensure energy security for the UK, according to Energy Minister Andrew Bowie.
He told GB News: "We're announcing these new licences in the North Sea with more to come, which will ensure our energy security moving forward.
"It means we'll be less reliant on hostile foreign actors for our energy baseload for the fossil fuels that we're going to be relying on for some years to come, which will mean that we're really reducing our CO2 emissions by not importing those fossil fuels.
"But the announcement on future and further carbon capture and storage projects means that we'll be taking that carbon dioxide out of the atmosphere and storing it under the North Sea, which means that getting to net zero will be more achievable. So it's a win-win."
In a discussion during Breakfast with Stephen Dixon and Ellie Costello, he said that nuclear power will also have a crucial role in the future.
Mr Bowie said: "It was only two weeks ago that we launched Great British Nuclear, we launched our small modular reactor competition, we're pressing forward at pace with Hinkley Point C, with Sizewell C…
"The way to get to a clean, secure and safe energy baseload is to invest at scale in new nuclear projects and that's why we're announcing what we did just a few weeks ago.
"We need more of it and that's what this government is determined to achieve."
On net zero, he said: "The Prime Minister has been absolutely clear that we will be phasing out new diesel and petrol cars by 2030 but that doesn't mean that you're not going to be able to drive existing petrol or diesel cars on the road.
"We think this is an important part of our net zero commitment and we're sticking to it."
Read more:
New North Sea licences will ensure energy security, says Energy Minister Andrew Bowie