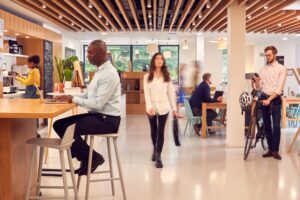 The Employee Development Plan: How to Create It and Its Importance in Your Organisation
Successful companies and businesses today are keen on implementing an employee development plan.
This is done by creating an effective development plan model to enhance the skills of current employees and avoid the need to rely on external resources for every task, thereby achieving the organisation's goals with its existing and evolving skill set.
Developing an employee training plan helps the organisation enhance its workers' skills, making them more efficient, professional, and multi-skilled. It also helps the organisation grow, achieve success, and reach its goals. Here's what you need to know about an employee development plan and how to create it.
What is the Importance of an Employee Development Plan?
An overall performance improvement plan in the company works on developing employees' practical abilities and strengths, encouraging them to provide more in line with the needs of the organisation and their personal goals simultaneously.
The development plan is created by leaders and managers in the organisation to enhance the skills of current employees by creating a clear, effective, and smooth training plan that aligns with their goals and schedules.
In addition, creating an employee development plan plays a significant role in employee retention and avoiding relying on external sources for every task. It's one of the most important goals of successful organisations due to its advantages in saving time and costs that would be used to develop new employees, introduce them to the organisation, and retrain them.
Developing employees' skills is always considered one of the most fundamental aspects of the policy of every successful company, which seeks to continuously increase its workforce's effectiveness.
How to Create a Step-by-step Employee Development Plan?
Here are the practical steps that successful organisations follow when creating an effective training plan for current employees and assessing their skills:
●     Determine Employee Goals and Compare Them to Organisational Goals:
The first step in developing an employee development plan is to assess their current performance effectiveness, discuss their future goals, listen to their ideas, and compare them to the fundamental goals of the organisation and what it needs in the future.
The human resources management department in the organisation presents the employees with the training plan that suits the needs of each of them and with their job titles. This leads to a greater understanding of the work methodology of each of them, constantly improving their performance and learning different activities that they may need to achieve new and essential achievements in the labor market.
●     Clarify the Goal of the Development Plan for Each Employee:
Now that you're motivated employees to develop their skills, you need to set the goal of that learning. You also have to determine how your company and your employees will benefit from it together at the same time. In addition to how it will meet all the required needs.
Since training and developing employees will require a lot of time and money, you certainly want to take advantage of the benefits of the available employee training and development programs. This includes obtaining advanced skills, distinctive competencies, sufficient professional experience, and institutional growth.
●     Evaluate Employees' Current Skills
To create a practical training and development plan, it is essential to evaluate the current skills of each employee and identify their strengths and weaknesses. It is also necessary to identify areas where the employee needs further development that aligns with the organisation's needs. Once these needs are identified, a tailored training program can be developed for each employee.
Multiple skills and training courses can be provided to the same employee when creating an individual development plan. This plan can motivate the employee to improve their performance and stay on the right track. It can also help employees identify their strengths and weaknesses and present their best as professionals.
●     Building a Business Plan Strategy
After identifying the appropriate employee development plan, an action plan should be developed that is specific to each team. Ready-made development plan templates can be used as a reference to create the best training plan for an employee.
You can learn more about these models in Human Resources Training Courses in Dubai. These courses focus on using the appropriate strategy for each trainee or manager and determining the best plan to develop the necessary functional and practical skills they would like to apply to their employees.
●     Be Flexible When Changes and Updates are Needed:
Adding some changes to an individual employee development program is very common and often happens while the employee development plan is in place and working on it. Therefore, you must amend the project when needed, in line with the organisation's interest.
The development of the general performance of employees is to follow an effective and active learning method, regardless of the type of skills required or the learning programs used. Accordingly, a set of changes must be put in place in the plans, whether at the individual level or for the entire organisation's employees.
●     Monitoring Results and Tracking the Success of the Plan:
Track the employee development plan and ensure the continued success of the process and results. It is also important to sit with employees and talk to them to identify the skills and knowledge they are acquiring and how they will improve the company's management and future strategies.
This monitoring helps employees be more eager to benefit fully from the employee development plan, in addition to insisting on developing the skills of each employee and making them excel in their work and the department they are responsible for. This will reflect positively on the company's interest and success.
In Conclusion
Many opportunities can help you develop a suitable employee development plan for your organisation, which shows you the best types of training you need and how to plan and prepare the best plan that suits your needs. You can find these opportunities, for example, in advanced practical training courses that allow you to manage your organisation's training process and fully develop your employees' performance.
Read more:
The Employee Development Plan: How to Create It and Its Importance in Your Organisation