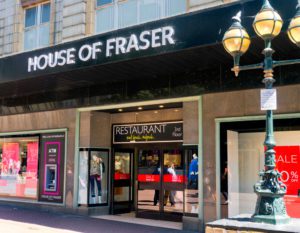 House of Fraser owner could close more big shops as department store model 'broken'
The owner of House of Fraser has said it could close more stores, after shutting eight in the past year and declaring "the department store globally is broken".
Michael Murray, the chief executive of Mike Ashley's retail empire Frasers, which also owns Sports Direct, the designer street fashion chain Flannels and a plethora of brands from Jack Wills to Evans Cycles, said its department store portfolio was "continually under review" and some outlets were "still too big". "We have to find solutions for the excess space," he said.
House of Fraser has already almost halved in size from 59 stores to 31 since it was bought out of administration by Ashley's retail empire in August 2018. Murray said that historically stores would have been 150,000 sq ft or larger, which was now "too big" and meant that in the past they "didn't have the investment" they needed. The group now wants stores of about 50,000 sq ft or smaller.
House of Fraser's latest closures follow a trend of decline for traditional department stores, with the UK's Debenhams chain now online-only after collapsing into administration in 2019, while Beales is reduced to just a handful of stores after going bust in 2020. John Lewis has shut 16 stores since 2020, leaving it with just 34, while Fenwick is to shut its flagship London shop on Bond Street next year after 130 years of trade.
Murray's comments came as Frasers reported that pre-tax profits for the group almost doubled to £660m after sales rose 16% to £5.6bn in the year to 30 April.
Sales at the group's premium division, which includes Flannels and House of Fraser, rose 5.7%, before acquisitions, but the division sank to a loss of £100,000, from a £10.5m profit a year before, after losing business rates relief and taking a £19.8m hit from store closures.
Sales at the core Sports Direct chain were virtually flat year on year, excluding acquisitions, but profits more than doubled to £447m as the group said a better relationship with the key brand Nike and other labels had helped it improve profit margins while it made additional profits on property disposals.
Frasers' sales were helped by a slew of acquisitions, including the online specialist Studio Retail and several brands from JD Sports. Murray indicated there would be more to come.
He said the group would continue to build stakes in listed companies as that was important in moving relationships forward. "Everyone can talk about trying to drive a strategic relationship but if someone doesn't put their money where their mouth is and take the first step then [nothing changes]. When you own 10% to 20% everyone's focused to make things happen. You are having conversations," he said.
While he would not comment on Frasers' plans for specific companies, Murray added: "There's going to be opportunities and we are well placed to capitalise on them. We have a strong industry leading platform for helping these businesses and taking benefits for our business."
The company said it expected to make up to £550m in underlying profit in the year ahead despite a tough consumer environment as it would be "staying focused on cost inflation".
That would be a step up from the £478m of underlying profit in the year to April, which came after excluding one-off benefits including a £55.2m gain on the acquisition of some brands from JD Sports and £17m related to the sale of a stake in Kangol.
On Thursday, Frasers said it had increased its stake in the online retailer Asos by another two percentage points to 15%. This week it has also upped its stake in the online fashion site Boohoo from 5% to 6.7% and N Brown from 18% to 19%.
Read more:
House of Fraser owner could close more big shops as department store model 'broken'