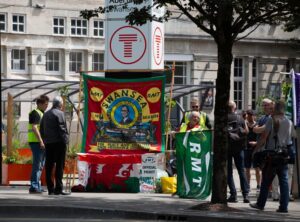 Train drivers announce new week-long overtime ban
Rail passengers are facing further disruption over the summer holidays after train drivers announced another week-long overtime ban in a long-running dispute over pay.
Members of the drivers' union, Aslef, will refuse to work extra hours from Monday 7 August to Saturday 12 August.
The industrial action, which affects lines served by 15 train companies in England and some cross-border routes into Wales and Scotland, will be the fifth week-long ban on working overtime since May. The latest ban ended on Saturday, with another due from 31 July to 5 August.
Mick Whelan, the Aslef general secretary, said: "We don't want to take this action – because we don't want people to be inconvenienced – but the train companies, and the government which stands behind them, have forced us into this place because they refuse to sit down and talk to us and have not made a fair and sensible pay offer to train drivers who have not had one for four years – since 2019 – while prices have soared in that time by more than 12%."
Network Rail has urged passengers to check before they travel on strike days as services could start later and finish earlier.
The impact of the ban will vary across the country, with some train operators putting in place an amended timetable during the industrial action.
The train companies affected are: Avanti West Coast; Chiltern Railways; Cross Country; East Midlands Railway; Greater Anglia; Great Western Railway; GTR Great Northern Thameslink; Island Line; LNER; Northern Trains; Southeastern; Southern/Gatwick Express; South Western Railway main line; TransPennine Express and West Midlands Trains.
Train staff belonging to the RMT union staged two strikes last week and will take further industrial action on Saturday, in their own long-running row with train operators over pay, jobs and conditions.
A spokesperson for the Rail Delivery Group (RDG), representing train operators, said: "Aslef's leadership continues to disrupt customers' travel plans. They rejected a fair and affordable offer without putting it to their members, which would take average driver base salaries for a four-day week without overtime from £60,000 to nearly £65,000 by the end of 2023 pay awards.
"Train companies will work hard to minimise the impact of the overtime ban that will affect the level of cancellations and the punctuality of some services. Customers are advised to plan their journey in advance and check the latest travel information before they travel.
"We ask Aslef to recognise the very real financial challenge the industry is facing and work with us to deliver a better, more reliable railway with a strong long-term future."
The announcement came after planned London Underground strikes this week were called off by RMT and Aslef after a breakthrough in talks.
In other developments, more strikes at Gatwick airport have been suspended after DHL workers accepted a 15% pay rise, easing fears of disruption over the busy summer holiday period.
As well as the pay increase, workers at DHL will get an uplift in skills pay, meaning hourly rates will rise by between 15% and 31%. Plus, workers will get an extra shift premium of £1.25 an hour for work between midnight and 4.59am, said their union, Unite.
Earlier this month, the union said about 950 staff who work in roles including baggage handling and check-in desks for ASC, Menzies, GGS and DHL, would hold eight days of strike action.
As a result of the pay deal about 600 DHL workers will no longer strike from Friday 28 July to Tuesday 1 August, and also from Friday 4 August to Tuesday 8 August.
ASC and Menzies workers are being balloting on improved pay offers and talks are progressing with GGS, the union said.
Read more:
Train drivers announce new week-long overtime ban