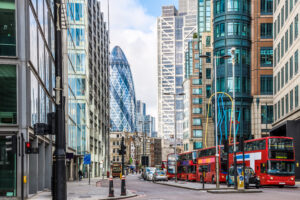 AI startups among winners of Mayor's tech challenge to help Londoners through the cost of living crisis 
The Mayor of London, Sadiq Khan has announced the winning tech companies and AI firms who will receive funding to bring to life their innovative ideas to support Londoners struggling with the cost of living crisis.
The 'Poverty Prevention Challenge' was launched by Sadiq in January 2023 to find innovative solutions to tackle the impact of the cost-of-living crisis, provide Londoners with access to opportunities and resources to reach financial independence, and improve the way the public sector identify and support people at risk of falling into financial hardship.
The initiative is part of Challenge LDN, launched by City Hall in partnership with Barnet Council to encourage organisations to find new ways to use technology to support the Londoners who are most in need. Challenge LDN has helped dozens of startups and small businesses. It has invested more than £2.5 million in supporting them to scale up across the city, providing access to seed funding and opportunities to develop new products and services and create jobs.
The "Poverty Prevention Challenge" is the latest in more than 20 challenges set since 2018 encouraging innovators from across London to test, prototype, and scale up ideas that address the city's most pressing challenges.  Seven London tech companies will each receive up to £50,000 to develop their projects. The winning proposals include:
Mealia's cutting edge AI technology to help families at risk of falling into food poverty maximise their budget by creating personalised meal plans using the cheapest ingredients from the user's favourite supermarket.
Mortar Works tenancy sustainment tool, designed to support renters in or at risk of rent arrears. It protects renters from needing high-cost debt to afford their rent.
Mendee's AI-powered digital tools to enable overwhelmed non-profit organisations to help refugees to integrate successfully into society by providing language and digital literacy support.
SuperFi's easy-to-navigate digital tools to help Londoners struggling to pay their bills manage their finances and access services and resources most suited to their individual needs.
City Hall data shows that more than half (54 per cent) of Londoners are either 'financially struggling' or 'just about managing'.* The Mayor is doing all he can to help Londoners cope with the increasing cost of living, including providing free school meals to help hundreds of thousands of low-income London families and has repeatedly called on the Government to introduce a two year rent freeze to support London's renters.
Mayor of London, Sadiq Khan, said: "The cost of living crisis continues to hit Londoners hard and these innovative projects will help thousands who are struggling to make ends meet in the wake of soaring energy costs and food prices.
"Local government and community groups are working tirelessly to support residents during the cost of living crisis. But as a city we must continue to innovate and AI and new digital services have a real role to play in assisting that.
"Supporting open calls to London's tech sector means we can apply new approaches to the challenges people face. By working this way we can break down silos, collaborate with new partners and build a better, safer, fairer and more prosperous London for everyone."
Theo Blackwell, Chief Digital Officer for London said: "I congratulate all those who took part, the winners and the forward-thinking of Barnet council in trying out this new approach.  Over the past 5 years setting open calls – or challenges – like this has allowed us to be bolder and work more collaboratively with London's start-ups and scale ups. Seeking and testing new ideas and learning from others, is an important part of London's new way of working."
Askia Ibrahim Warne, Founder of CARD-HR said:  "We are thrilled to be selected as winners, a validation of our concept and an inspiration to continue our dedicated work towards driving excellence and creating a positive impact by enhancing the economic well-being of struggling families, particularly women facing skills gaps and childcare challenges. Our practical approach will empower our beneficiaries to overcome barriers and gain meaningful employment. We are committed to spurring forward our innovation to become sustainable and resilient."
Dr. Bela Prasad, Co-Founder at MatchingMind said: "We are deeply honoured to receive this award, as it acknowledges the impact of MatchingMind's innovative approach in fostering resilient communities. In the wake of the pandemic and a mounting cost of living crisis, mental health has been significantly affected people, with nearly half of the population experiencing elevated levels of stress and anxiety. This award empowers MatchingMind to further our mission of connecting and matching Londoners for buddy support, enabling individuals to feel heard and understood."
Gabriel Corbet, Founder of Mealia said:  "We are deeply grateful for the endorsement of the Mayor of London, whose backing will support our ongoing efforts to combat poverty and alleviate food insecurity. This partnership paves the way for the widespread implementation of our initiative across London and helps us identify how to build the optimal tool to empower individuals to make the most of their grocery budgets."
Alex Choybsonov, Founder of Mendee said:  "We are absolutely thrilled to be recognized as winners of the Poverty Prevention Challenge. This signifies an endorsement of our dedication towards social change and validates our belief in the power of technology to combat poverty. The grant will catalyse our mission to leverage our AI-powered SiBot to make a meaningful difference, enhancing our ability to empower refugees and accelerate their smooth integration into society for greater social impact."
George Unsworth, Founder of Mortar Works said:  "At such a crucial time we are honoured to be providing vital support in managing and sustaining tenancies through the development of Rent Response. Together with Challenge London and our lead housing and local authority partners we will be working to ensure that Rent Response improves access for renters to money advice services and creates the affordable rent schedules needed to help keep the most vulnerable safe and secure in their homes."
Tom Barltrop, Founder of SuperFi said: "We are delighted to be selected as winners by the Greater London Authority. With a staggering 45% of the UK struggling to meet monthly bills, this collaboration represents a crucial step in addressing the cost-of-living crisis. By working alongside councils, housing associations, and local support services, SuperFi will offer essential tools and solutions to enhance financial resilience and prevent individuals from falling into problem debt. Together, we will make a meaningful difference in the lives of millions of Londoners facing financial challenges, bolstering poverty prevention efforts in the capital."
Will Thompson, Founder of Time to Spare said:  "The buzz in the office when we were selected as a winner of the GLA's Poverty Prevention Challenge was quite surreal. As a small team of four, we all worked hard to pitch a proposal we believe will make a real impact.  This funding enables us to bring together 5 Councils from boroughs across London, to develop, test and roll out our innovative prototype that will help them partner more closely with the voluntary sector to identify and reach vulnerable people that need support."
Read more:
AI startups among winners of Mayor's tech challenge to help Londoners through the cost of living crisis