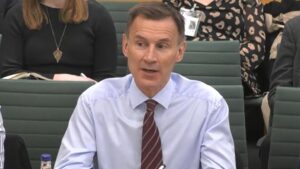 UK government borrowing less than expected as tax receipts rise and debt bill falls
Government borrowing rose by less than forecast last month as strong tax revenues and a falling debt interest bill helped to boost the public finances.
Official figures from June showed that public borrowing rose by £18.5 billion, less than the £21.1 billion expected by the government's independent watchdog, the Office for Budget Responsibility (OBR). Economists polled by Reuters expected monthly borrowing to hit £22 billion.
June's public borrowing figure was £400 million lower than the same month last year, when the surging cost of servicing the country's inflation-linked debt hit the Treasury's coffers. The Office for National Statistics (ONS) said that the government paid £12.5 billion on debt interest last month, a historically high figure but £7.5 billion less than the record £20 billion recorded in June last year. The figures, however, is the third-highest in any single month on record.
The retail price index (RPI), a non-official measure of inflation that determines the rate at which inflation-linked bonds are serviced, was 11.4 per cent in April, the month that determines the payout on "linker" debt.
Inflation-linked debt accounts for about a quarter of all outstanding UK bonds, one the highest proportions in the G7 group of large economies, according to the ratings agency Fitch. June's debt servicing bill was £1.5 billion below forecasts.
The ONS said that the debt ratio rose to 101 per cent of GDP in June, the highest since June 1961, despite May's figure having been revised down from an initial 100 per cent to 99.9 per cent.
The numbers put pressure on Jeremy Hunt, the chancellor, who has promised to get the debt ratio falling within five years under his self-imposed fiscal rule announced last autumn.
High inflation helped to partly boost the public finances last month, with tax revenues exceeding expectations. The ONS said that the government had collected £57.3 billion in taxes last month, £4.5 billion higher than OBR forecasts. Inflation has pushed workers into higher income tax brackets.
The government's main spending outlay was on benefits, which have also risen partly because of inflation and cost of living payments made to those suffering from disabilities to help with energy costs. Total spending on benefits was £4 billion higher than in June last year.
"Higher tax receipts and a substantial fall in debt interest payable compared with June 2022 were largely offset by increased benefit payments and other costs," the ONS said.
Hunt said after the publication of the borrowing figures: "Now more than ever we need to maintain discipline with the public finances. We are at a crucial juncture and need to avoid reckless spending. As this week's fall in inflation showed, we will start to see results if we stick to our plan to halve inflation, grow the economy and get debt falling."
Samuel Tombs, chief UK economist with Pantheon Macroeconomics, said: "Good news on recent levels of public borrowing will not be celebrated much at the Treasury, given that the outlook for debt interest payments has deteriorated substantially since the budget."
The government has been under pressure from some in the Conservative party for tax cuts ahead of the next general election but Tombs does not expect the chancellor will have "scope to cut taxes meaningfully".
Read more:
UK government borrowing less than expected as tax receipts rise and debt bill falls