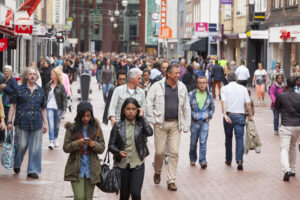 High street suffers as savvy shoppers spend less and hunt for best deals online 
Amid ongoing inflation and rising costs, people are feeling the pinch with over half of businesses that noticed changes in spending reporting that their customers are spending less than they were in the first three months of the year.
That is is the findings of the second Virgin Media O2 Business Movers Index – a quarterly barometer that combines anonymised and aggregated UK movement data from O2 Motion.
Over-65s are leading this trend with 1% spending more on clothing vs 41% spending less in the last three months. Looking at monthly growth figures it's clear that older groups led retail growth at the start of the year, but this trend was reversed in Spring with a surge in 18-24 year-old shopping trips.
The high growth in retail trips by 18-24 year-olds in May (11.8%), compared to no growth for people aged 65+, suggests younger Brits responded to the May bank holidays with increased retail and leisure activity – from summer holiday shopping to festival preparation.
Many cash-strapped shoppers are turning to second-hand to seek out better prices, with more than two-fifths of the public having shopped second-hand once or more in the last month. The majority of 18-34 year-olds are actively shopping second-hand as Gen Z take the mantle as the UK's most sustainable shoppers.
Consumers are clearly being more budget-conscious now than three months ago, as spending on non-essential items plummeted in Q2 – including 45% spending less on electronics and 39% less on clothing. Food is the only item that Brits are buying more of, with only 13% of the public buying less food than they were in the previous 3 months. Meanwhile, nearly a quarter of businesses have reduced staff as shoppers prioritise online deals over in-store shopping and half of businesses cite a surge in online shopping in Q2.
Read more:
High street suffers as savvy shoppers spend less and hunt for best deals online