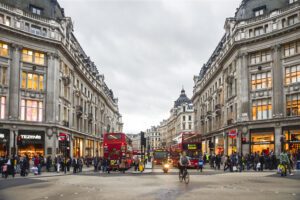 Westminster City Council offers SMEs rent-free Oxford Street shops in new multi-million pound campaign
Small businesses are being offered the chance to take over a shop on Oxford Street, rent-free, as part of a new project launched today by Westminster City Council, in partnership with New West End Company.
Called "Meanwhile On: Oxford Street", the programme invites applications from innovative, cutting-edge and up-and-coming brands who will offer something exciting and new to one of the world's most iconic shopping streets.
The businesses selected can use this high-profile space to bring their brand's story to life, for example through new technologies such as virtual or augmented reality, interactive exhibitions and in some cases, by bringing the production process to the customer by installing machines in store, opening visitor's eyes to how clothes and other materials are made.
The programme forms part of Westminster City Council's wider Fairer Economy plan to invest in high streets throughout the borough.
The campaign is aimed at businesses looking to launch their first store or physical space. Selected brands will be given a prime store location for an initial six-month period. These opportunities will be rent-free for brands, with a minimum 70% reduction in business rates. Stores will either be available for single occupancy or as a themed concept store shared between multiple brands.
Although rent free, successful applicants must be able to fund the other associated costs of running a store for six months and show potential to launch long-term after developing their brand through the programme.
Westminster City Council have appointed Someday Studios to deliver the three-year project. Someday Studios is a retail placemaking consultancy that helps landlords transform underused spaces into vibrant destinations that support local start-ups and creatives. The consultancy was founded earlier this year by Aoife Byrne and Becky Jones, who have previously launched, operated and marketed some of the UK's biggest multi-unit retail sites, activated over 500 stores and worked alongside over 2,500 entrepreneurs.
Award-winning design agency FormRoom will be designing the first store. FormRoom have previously delivered stores for the likes of Fortnum and Mason, Liberty, Harrods, Selfridges, Charlotte Tilbury and Balenciaga.
The retail, mentoring and design support combined, offers a significant package of support for small businesses seeking the opportunity to trade in London's West End.
Although the Meanwhile On: Oxford Street, is a brand-new programme, it builds on pilot schemes which have shown that the model works successfully. A good example is Kitty McEntee, founder of Lab Tonica who was offered a short-term pop up by Westminster City Council in 2021, to sell hand blended botanicals, teas, balms, and aromatherapy gifts on Regent Street. This successful activation and support from the Council allowed Kitty to make important connections with other retailers on Oxford Street and Lab Tonica now has a permanent concession in Selfridges.
Kitty McEntee said: "In 2021 my brand Lab Tonica was selected to be part of a sustainable pop-up program initiated by Westminster City Council, the NWEC and The Crown Estate. As a new start up, this was an incredible experience and helped to fast-track the launch of my brand, providing a multitude of marketing and collaboration opportunities, and delivering much needed revenue for an independent start-up. The initiative breathed new life into the post-covid high street and I'm proud to have been a part of it."
Petit Pli, another brand supported by Westminster City Council, offers a unique and sustainable option for parents as their children's clothes expand seven sizes, meaning parents need to buy fewer clothes over their child's lifetime.
Petit Pli used their short-term pop up to showcase some of the machinery used in their design process. This vital support from the Council meant the brand has gone on to open their own permanent unit in London and is thriving.
Innovative and up-and-coming small businesses that can offer something unique to customers in terms of products, events, experience, or concept, are encouraged to apply via this website (insert link). Each brand will need to meet the criteria set out in the application form. New opportunities for brands will also continue to roll out over the coming months and years, as units become available. Meanwhile On: Oxford Street is expected to support around 35 brands over three years, with the first store opening autumn 2023.
Cllr Geoff Barraclough, Cabinet Member for Planning and Economic Development said: "The West End has recovered quickly from the pandemic but there are still too many vacant units and poor-quality occupants. That's why we've set up Meanwhile On: Oxford Street to help fill the gaps with upcoming brands showcasing their innovative new ideas. I am excited to welcome new brands to one of the most famous streets in Europe, and support them with free rent, reduced business rates and help with promoting their businesses."
Someday Studios comments "We're delighted to have been chosen to deliver this campaign for Westminster City Council, and to play a part in helping to shape the future of one of the world's most iconic retail streets. Our passion is helping to build and nurture talented new brands; we can't wait to see what London has to offer and are excited to help the winners make the most of this incredible opportunity to showcase their brand to millions."
Dee Corsi, CEO of New West End Company, said: "The West End is internationally recognised as one of the world's most iconic retail and leisure destinations. As a result, it has always been at the forefront for brands looking to engage with consumers in new and innovative ways – businesses that come here, do so to put their best foot forward. The addition of pioneering brands, through the Meanwhile On programme, is just one of many indicators of the district's wider growth, and we look forward to welcoming the successful applicants to the area."
Read more:
Westminster City Council offers SMEs rent-free Oxford Street shops in new multi-million pound campaign