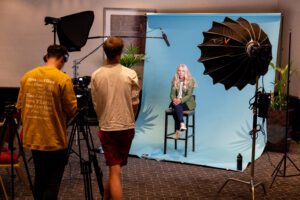 How to start a creative video production agency: Tips and tricks from one of London's fastest growing video production companies…
Don't expect a quick-fix guide or foolproof blueprint to kickstart a thriving creative agency. If your looking for that, you might want to scour Reddit or the daily mail – they seem to have an endless advice.
Instead, we're offering a condensed snapshot of our important experiences and insights from the past four years as we've navigated the journey of setting up one of London's fastest growing video production companies. We aim to shed light on the dual aspects of running an agency: one being business development, strategy and delivery, and the other, the creative spark. This blog gives voice to both perspectives, providing a balanced view of the tightrope that needs to be walked to facilitate rapid growth while upholding an unwavering creative standard.
Brace Yourself – It's Going To Be Tough!
On the walls of our studio sits a quote that might sound unusual at first: "Without hassle, there is no joy". This is something we've found as we've muddled through the creative journeys from our amoebic creative beginnings to… well, what I'd describe as an early stage creative agency dragging itself out of the primordial soup and on to the crowded shores or 'the market'. The challenges that lie ahead should not be seen as roadblocks but as stepping stones that distinguish you from the crowd. Be it finance, organization, creative capacity, networking, digital and social know-how, or growth, viewing these aspects as pillars of learning will lead you to your destination, given time.
What's All the Fuss About?
Transitioning from zero to an entity that's something, is no mean feat. The challenge lies in creating an agency that can support the essential personnel required to deliver your services. To put things into perspective, you'd need a producer to handle business and organization, and a creative to take charge of filming, editing, and delivering. And you'd need to pay these two a decent wage, at least £3,500 a month combined, along with covering the basic costs of running the business. This doesn't even include the investment in equipment and professional development. To pull this off, you need to consistently deliver and acquire work, at least one and a half jobs every month, before considering a full-time commitment. So, how on earth do you do that?
Resourcefulness in the Face of Obstacles
Starting a video production company faces a huge bar for entry. Essential tools of the trade are expensive in the form of a camera, and a laptop, these are indispensable. The advancements in technology mean that a new iPhone could potentially fill in for a professional camera, but rewind four years and you'd require equipment with more gravitas. As a basic starting point, you might be looking at a £1,000 camera and a laptop of similar cost, although, thorough research is necessary to ascertain the right camera for your needs. Our journey began with a family loan to finance the camera, and I had to sell my photography camera to chip in towards a laptop. Without these measures, we would have been stalling our venture for half a year.
The Hidden Advantages of Pro Bono Work
With a camera at hand, the next step is to amass a compelling portfolio. This is crucial. It's unreasonable to expect clients to pay when you have no prior work to showcase. Clients might feel they're risking their money or worse, their precious time. For the initial two years, we juggled our startup with other jobs, dedicating weekends and evenings to filming a wide range of subjects – from beach outings with friends to unpaid event coverage. Although we vowed never to film weddings again, it was a valuable learning experience. The beauty of free work is its tri-fold advantage: it enriches your portfolio, enhances your reputation, and expands your network through referrals. Even today, we embrace pro bono work when our schedule permits, usually offering our services to charities or projects that resonate with us.
The Art of Acquiring Free Work!
In the early days, we found it odd that our offers of free work would occasionally be declined – quite a blow to morale. It's human psychology to associate free offerings with a lack of value or even view them as an inconvenience. We learned to flip this perspective. Instead of plainly offering free services, we invited potential clients to collaborate on a project. For instance, say you approach a sustainable coffee company in Bristol, rather than offering free work, frame it like this: "Hi, we're producing a series on Bristol's most eco-friendly SMEs and wondered if you'd be interested in being featured?" This tactic subtly conveys a sense of urgency and value, making the proposition more appealing.
Find Your Niche
You might be wondering, "A what?" Yes, a 'vertical'. It's a term more common in the tech start-up scene, but it applies to any industry. Essentially, it refers to a niche or a specific sector within your field. For instance, within film, one vertical could be wildlife documentaries, another corporate talking heads. Both are subsets of film, but expertise in one doesn't equate to proficiency in the other. Keep in mind, clients tend to explore various options, and there's always a larger, cheaper, more flashy competitor lurking. BUT, if you're the go-to agency for a specific type of content, you significantly increase your chances of being chosen for projects within that niche. Our choice was to marry the aesthetics of documentaries with the structure of ads and corporate videos, a concept we termed 'Documercial'. This style resonated with Airbnb when they sought to create a series of short documentaries/ads about their users. Given our unique focus, we were their pick, enabling us to showcase our collaboration with Airbnb. But if our portfolio had been a mishmash of various types of films, would we have stood out?
Feel free to explore diverse types of content, but honing in on a vertical could fast-track your climb up the industry ladder. Once you've mastered that niche, you can then broaden your horizons, just as we did, starting from a documentary/documercial studio to now dabbling in a bit of everything.
Throwing in Everything But the Kitchen Sink
Perhaps a dramatic way to put it, but there's a serious point to be made here. If you continually deliver exactly what clients ask for in the most cost-effective, straightforward manner, you'll never build a brand that truly stands out. Consider this: a client pays you £4,000 for a film that appears to cost £4,000 – they're pleased. But how will you then ask for fees of £5,000, £10,000 or more if all your work represents the value of what's been paid previously? Every project should be seen as an opportunity to build your portfolio. Whether it's a talking head, short event film, promo, crowdfunding film, or anything else, prioritize the quality of the final asset over immediate profit. After all, a client's investment in a film doubles as investment in your portfolio.
Great work doesn't guarantee a great agency
Simply producing great films doesn't guarantee a successful career in filmmaking. Brace yourself for a reality check: there are countless filmmakers out there, many of whom might outperform us and you. Most people won't spend hours searching for the perfect filmmaker or agency. You need to find them first or make yourself so prominent that you're the obvious choice. This brings us to marketing. A common error is to split your time equally among all marketing channels: the website, social media outreach, SEO, networking. But if I dedicate 50% of my time to something you're only spending 25% of your time on, I'm already one step ahead. Instead, focus on mastering one or two strategies. We chose to invest heavily in search engine visibility, becoming the most noticeable video production company in the UK on Google. This requires half of my daily work, but it pays off. Another approach is to attend as many networking events as possible, like our main competition in the South West of the UK. By dominating a specific marketing avenue, you'll quickly determine its effectiveness and potentially command that space.
Believe in Ubuntu
They say your first hire can make or break your startup. We opted for a different path. Rather than hiring early on and offering a lower wage, we chose to bring in freelancers, paying them higher rates for their work. Why? It keeps us nimble during challenging times. More importantly, it's fostered a deep sense of camaraderie. In the creative world, independence is a valuable commodity. When you pay someone well and allow them to flourish independently, they invariably put their all into their work. We're transparent about our budgets and openly discuss what we can afford. We've even had creatives volunteer their work when times were tough, an act we repay when the next big job rolls in. Now, with a clear income stream and precise knowledge of our creative costs, we can consider hiring with the assurance that our cash flow can handle it.
Say No to Working from Home
It took us three years to figure this out, but working from home isn't ideal. You might worry about the cost of renting an office space, but consider it as an investment for new opportunities. Choosing a great office space surrounded by thriving companies increases your chances of collaborating with them. A traditional workspace may cost around £250 per month (£3,000 per year). Just one job from being in a shared workspace could cover that cost. We did exactly that – we researched the best workspace with the best companies and landed a job within a month, three jobs within two months, including one with Domino's Pizza!
Set and Chase Milestones
Once you've hit your stride, with work flowing and great distribution channels, what's next? How do you maintain your lead in the industry? Our approach is to cultivate a project culture. Instead of aiming for a single, lofty goal, we set smaller, achievable projects that collectively contribute to our bigger mission: using film to support and promote people, projects, and companies making the world a better place. This could be delivering an ad to a particular standard or achieving a number one ranking for a webpage. Once a project is chosen, we focus our efforts on it until completion. This laser-focused approach has proven to be highly effective.
The Most Vital Piece of Advice
Pursuing a career in the creative world is not a casual endeavor – it's a labor of love. It's not for those seeking stability, for them, perhaps banking would be a better fit. But if you yearn for a less conventional life, one that could take you to the furthest corners of the world, then this is the place for you. Yes, much of the work involves sitting at a desk, making calls, and planning. But when the time comes, you have the opportunity to create something truly unique, something that could transform an entire movement, project, or cause. Filmmaking is not just fun, it's meaningful. The thrill I get every time I watch one of our films for the first time is indescribable. That's why I'm always open to offer advice to those seeking it. Feel free to contact us via our website – I try to respond to all emails whenever I'm at my desk.
All photos are credited to Here Now Films &  Tin & Copper Media.
Read more:
How to start a creative video production agency: Tips and tricks from one of London's fastest growing video production companies…