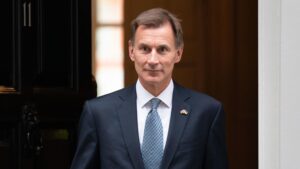 Chancellor to outline £50bn city reforms to turbocharge SMEs
Chancellor Jeremy Hunt will today set out a series of "Mansion House reforms" intended to channel tens of billions of pounds of Britain's pensions savings into high-growth companies.
The Chancellor will use his annual speaking slot in the City of London to set out reforms he claims will seize "benefits of Brexit" and make UK capital markets more attractive.
Mr Hunt will also hail a voluntary compact by some of Britain's biggest pension companies to commit 5 per cent of their investments to private equity and early-stage businesses, unlocking up to £50bn in funding for start-ups and SMEs by 2030.
The "Mansion House reforms" are expected to simplify rules for buying and selling shares, attempt to boost the amount of stockbroker research on listed companies and ultimately aim to deliver higher returns for investors.
In addition, Mr Hunt is anticipated to announce plans to make share certificates in public companies fully digital, with the aim of making it simpler and cheaper for companies to manage their share registers.  He will also unveil a plan to simplify the prospectus documents listed companies have to publish when raising money from investors and will back recommendations to partly roll back the EU's controversial Mifid II rules, which the UK had an influential hand in drafting when it was still in the bloc.
Responding to the news, investment expert Josh Boer, director at tech consultancy VeUP said: "These radical reforms are a step in the right direction for unlocking investment and turbocharging the economy. Far too many high growth businesses struggle to get investment-ready and with rising interest rates and stubborn inflation dominating the agenda, getting financial backing is a major challenge for many.
"However, unlocking extra investment is only part of the solution, ambitious companies also need to be properly equipped to scale-up rapidly using the latest cloud and AI technology alongside hiring talent and having support to develop their products and services," added Boer.
Fintech entrepreneur Khalid Talukder, co-founder of DKK Partners said: "At long last we're seeing some truly entrepreneurial thinking, at a time when fast-growing companies are crying out for extra support. Our economy is built on the success and hard work of start-ups and SMEs going the extra mile, so these changes will help unleash Britain's potential by unlocking extra investment that is so badly needed.
He continued, "But much more needs to be done to enable these companies to expand and trade internationally, they need better access to the latest tech and payments services as well as key capabilities to tap into the lucrative FX market to reach their full potential."
Two-thirds of the defined contribution pensions market will be covered by the pact, according to people briefed on the deal, which will be signed by names including Aviva, Legal & General, Phoenix and Scottish Widows.
The City of London Corporation, the Square Mile's local authority, has talked about "a modest 5 per cent allocation" of defined contribution scheme investments to private equity and hoped that "the majority" would be UK asset classes. Hunt's reforms are aimed at fostering a better funding environment for start-ups and arresting a slump in the number of firms listing their shares on the London Stock Exchange.
Companies have been remaining private for longer and are increasingly looking overseas when they do list their shares. The decision by Cambridge-based chip giant Arm to list in New York was a blow to the UK and to prime minister Rishi Sunak, who had met personally with company executives to make the case for a London flotation.
The Chancellor will use the Mansion House speech to announce consultations on an "evolutionary" reform of pensions markets, including efforts to merge smaller, inefficient funds. The chancellor will consider more ambitious proposals to create "superfunds" similar to the giant pension funds in Canada and Australia, to try to put more money into high-growth companies and infrastructure. However Hunt will take a cautious approach — he says he does not want a Big Bang II — and has ruled out any "mandation" or telling pension funds how or where to invest their money.
The rules aimed to improve transparency by barring investment banks from providing company research for free alongside brokerage services.  The EU is already planning to loosen the research restrictions, meaning the UK risked being an outlier if it maintained the current regime. Critics blame the rules for reducing the amount of analyst research available for small and medium-sized listed companies.
The research is seen as important for ensuring liquidity in equity markets by helping investors to decide the value of companies' shares. Hunt is expected to announce his support for a new trading venue that will allow private companies to have their shares traded on a handful of days each year without floating on a stock exchange.
Read more:
Chancellor to outline £50bn city reforms to turbocharge SMEs