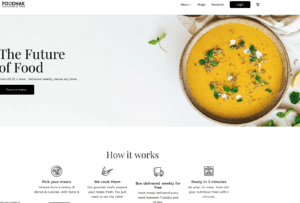 Foodhak uses artificial intelligence to scour 200,000 clinical health trials and perfect its meals
Healthy foods business Foodhak is successfully designing nutritious meals by using generative AI to process the results of more than 200,000 clinical health trials, it has announced.
In a world first, the trailblazing company is now at the forefront of utilising state-of-the-art artificial intelligence techniques to perfect its foods which have medicinal benefits.
It has developed proprietary data pipelines which output hyper-specialised health research data sets from hundreds of thousands of academic sources to design wellbeing foods which can target specific diseases and deficiencies.
This machine learning approach means Foodhak can assemble foods with smart ingredient swaps to promote longevity and make active recommendations on what someone should be eating based on their health and life goals. It hopes to soon have data from more than one million trial results to embed into its food production and recipes – and to help design even more precise, personalised diet plans.
Evidence has been unearthed from prestigious publications including The Lancet, The British Medical Journal and New England Journal of Medicine. Foodhak nutritionists learnt from one study how to use cinnamon to reduce period pain while another linked pomegranate to longevity and highlighted turmeric's anti-aging effects.
This approach has helped the company to achieve growth figures of 100% year-on-year and to unveil a healthy selection of AI-designed snacks like cookies, which incorporate ancient herb ashwagandha and a range of seeded omega and millet crackers containing more omega than most supplement pills.
The super-healthy snacks are the brainchild of entrepreneur and mother-of-two Sakshi Chhabra Mittal, who came up with the concept for the company after fighting off disease herself by changing her diet.
Sakshi said: "Foodhak has constructed its own proprietary model which uses generative artificial intelligence to process hundreds of thousands of clinical health trial findings.
"AI enables us to use evidential data sets with precision and to help us construct new recipes and products, with smart ingredient swaps to target health problems and improve wellbeing, accurately using food as medicine.
"This revolutionary approach is unique and no-one is utilising such huge swathes of data to improve nutrition and wellbeing. We hope to soon have more than one million hyper-specialised data sets which we can further use to laser-focus our products, recipes and personalised diet plans.
"Foodhak was founded on the idea that on one hand, food could be deeply nourishing, healing and restorative, and on the other, it could taste incredible and that the food you eat can, and should, make you happier, healthier, and even help you live longer. Artificial intelligence has enabled us to hone this approach and give unrivalled accuracy and results."
Foodhak's UK-wide subscribers receive a weekly box with premium, fine ready-to-eat meals for the week, clinically approved by nutritionists. They all contain low GI, are anti-inflammatory, alkaline, free from gluten, dairy and refined sugar.  An estimated 90,000 deaths in the UK each year are attributed to poor diet – 11 million globally – with many diseases originating in the gut.
Sakshi added: "We can use this technology to recreate any meal, as indulgent as a pizza or a brownie and tweaks the recipes with smart ingredient swaps to make it delicious but add value to your health.  Adults and children alike love these snacks and they are full of goodness and taste -they don't have to be guilty pleasures any longer. We believe this is the future of food – and the key to longevity.
"The food we are surrounded by is wrong and is pushing us towards developing chronic diseases and we are also working on clinical trials to show disease reversals for diabetes, high cholesterol and other such lifestyle diseases which are killing many people."
Read more:
Foodhak uses artificial intelligence to scour 200,000 clinical health trials and perfect its meals