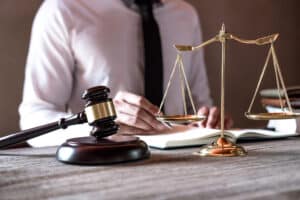 How accessiBe Can Help Your Business Mitigate the Chance of ADA Lawsuits
The civil rights law, The Americans with Disabilities Act (ADA), prohibits discrimination against people with disabilities.
Recent data shows a surge in ADA Title III Federal lawsuit filings, hitting an all-time high in 2021.
The rise in accessibility-related lawsuits is expected to continue in the coming years as more companies face litigation because of ADA noncompliance.
The million-dollar question is, what happens when your business does face ADA lawsuits?
What's your best course of action to minimize potential damages to your company's credibility and profitability and reduce legal fees?
Continue reading to find out.
How accessiBe's Litigation Support Package can help
Website ADA compliance is critical to maintaining web accessibility for your site and reducing the chances of facing ADA lawsuits.
One way of handling ADA lawsuits is to get help from web accessibility company accessiBe's Litigation Support Package, which includes the following.
Recommended and legally vetted responses for certain case scenarios
Two third-party audits performed by the accessiBe team
A deep dive into your case to give you ongoing and additional support when necessary
Testing and documentation provided by accessiBe's Research and Development (R and D) team with thorough assessment and response to each accessibility complaint
How accessiBe's automated web accessibility platform helps
Using accessiBe's automated web accessibility solution can help mitigate your chance of a lawsuit in the first place, although claims can be made against any business at any time. Let's take a look at the features of accessiBe's automated solution.
Accessibility interface
The Accessibility Interface offers a design and User Interface (UI) adjustment feature. It applies instant accessibility adjustments to your website based on user preferences and needs.
The Accessibility Interface's main adjustment options include:
Accessibility profiles
The Accessibility Profiles automatically enable a combination of common web accessibility features and functionalities to address a particular disability's requirements.
For example, seizure prone users or people with epilepsy can turn on the Seizure Safe Profile to instantly clear flashes, blinking animations, and risky color combinations on your website
You can see the slight difference between the image above and the one below when you enable the Seizure Safe Profile.
The profile allows users to browse your website safely and effectively.
The other accessibility profiles are designed for people with visual impairments, Attention Deficit Hyperactivity Disorder (ADHD), cognitive disabilities, motor impairments that limit the individual to using a keyboard, and blind users.
Content adjustments
Your website visitors can modify how your site displays with the Accessibility Interface's content adjustment options.
Users can tweak how your website displays headings, texts, and other content to make these readable, especially for people with blurred vision and aging sight.
The adjustment options allow users to magnify texts, highlight links and titles, modify line height, letter spacing, and font sizing, and change the text's alignment (among others).
Color adjustments
Users with varying color blindness, visual impairments, and light sensitivity can make instant contrast and color adjustments through the Accessibility Interface.
Website visitors can switch to low or high saturation and high, low, and dark contrast. They can also adjust your site's background, title, and text colorization and choose the monochrome option.
Orientation adjustments
The Accessibility Interface's orientation adjustments include guiding elements and shortcuts, allowing users to reduce distracting elements and noise on your website.
The adjustments let users hide images, mute sounds, and turn on options such as the Read Mode, a reading mask, and a reading guide.
Users can also highlight focus and switch the cursor to big black or white to make it easier to see and follow.
Other Accessibility Adjustments include 12 built-in languages and an online dictionary.
The dictionary can help users with cognitive disabilities easily look up the meaning of phrases, words, and slang within the interface and without leaving your website.
AI-powered processes
accessiBe's Artificial Intelligence (AI) handles the more complex accessibility adjustments: keyboard navigation and screen reader optimization.
The automated backend adjustments are implemented efficiently within reasonable time frames, costing you significantly less time and resources than manual processes.
Screen-reader optimization
accessiBe's AI-powered background application learns all your website's components to ensure ongoing ADA and WCAG compliance, even when updating your site.
Through this process, accessiBe provides screen-readers, the software that blind people use to browse the web, meaningful data.
The backend process uses the Accessible Rich Internet Applications (ARIA) set of attributes to give accurate, actionable icon descriptions, element roles, form input validation guidance, form labels, and more.
It also scans your website's images and provides meaningful and accurate image-object-recognition-based descriptions via alternate text (or ALT text) tags for images without descriptions.
Additionally, the background process can extract embedded texts in images via Optical Character Recognition (OCR) technology.
Keyboard navigation optimization
accessiBe's background process can adjust your website's HTML and includes various behaviors using JavaScript (JS) code to make your site operable with a keyboard.
The adjustment happens on the fly, allowing users to browse your website easily using common keyboard key combinations and functions such as the Shift+Tab to move between commands in a group.
accessiBe's backend also moves the keyboard focus toward the triggered popups when they appear, so the focus doesn't drift outside.
Consequences of ADA noncompliance
Besides lawsuits, failing to adhere to the ADA requirements can have serious effects on your business, including the following.
Damage to your reputation and credibility
ADA lawsuits can damage your brand's image.
The lawsuits can affect your company's reputation, especially when the alleged ADA violation becomes a public record. It can follow and haunt your business as long as it operates, potentially hurting your credibility.
ADA penalties for noncompliance
Federal law can allow fines of around $75,000 (for a first ADA violation) and $150,000 for additional noncompliance.
You might also get additional penalties and be required to achieve a higher accessibility standard than the ADA requirements, depending on your local government and state laws.
The violation fees and the resources you spend trying to meet a higher accessibility standard can quickly add up, potentially costing you thousands of dollars.
Leverage accessiBe to mitigate your chances of a lawsuit
Ensure your website meets web accessibility guidelines and mitigate your chance of ADA lawsuits by using accessiBe's automated web accessibility solution. And should a chance lawsuit arise-don't panic, because accessiBe is on your side.
Read more:
How accessiBe Can Help Your Business Mitigate the Chance of ADA Lawsuits